PVC Series Belling Machine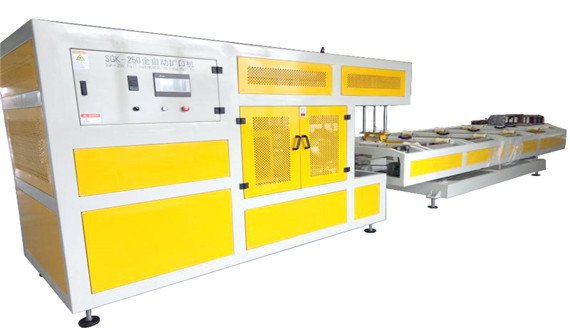 Product introduction:
SGK-630 Full-Auto Pipe Belling-machine Expanding withdrawing device and program interface concerned is used with the extruding machine. It is also could be used for separate operations. While expanding pipes, the machine adopts translation. The action is steady and correct. It does not damage pipe materials. The machine adopts a double-infrared heating oven type. Each oven is equipped with a heating core. The shaping method adopts expanding-end shaping. The size of the pipe mouth is correct. On its panel, there is a transfer switch of expanding solvent-type pipe sockets, solvent, rubber-ring expansion, and rubber-ring lip-type sockets. The choice of expanding pipe types is very convenient. The technological adaptability is strong. Its main electric control elements are all exported. The system characteristics are steady and reliable.
Please Subscribe and Like our channel
www.benkextruder.com
Email: [email protected]
WeChat/WhatsApp: +8615950962426
Telegram: @benk_machinery_co_ltd
Subscribe to us:
https://www.youtube.com/channel/UCm7P_hL9NLr2rDy5SM8gJ_A
https://vk.com/id422848847
https://www.facebook.com/eric.ding.58760/
https://twitter.com/BenkLtd
https://www.instagram.com/benkmcl/
https://www.pinterest.com/benkmcl
https://www.linkedin.com/in/eric-ding-b9722922/