DRIP IRRIGATION TAPE PRODUCTION LINE
In most parts of the world, farmers and agricultural facilities are coming across with water issues. In addition, this leads manufacturers and inventors for the new type of innovative strives in watering the plants. Thus, Benk Machinery Co LTD is presenting the new drip irrigation tape production line, which is Inner Flat Emitter Type Drip Irrigation Tape Making Machine.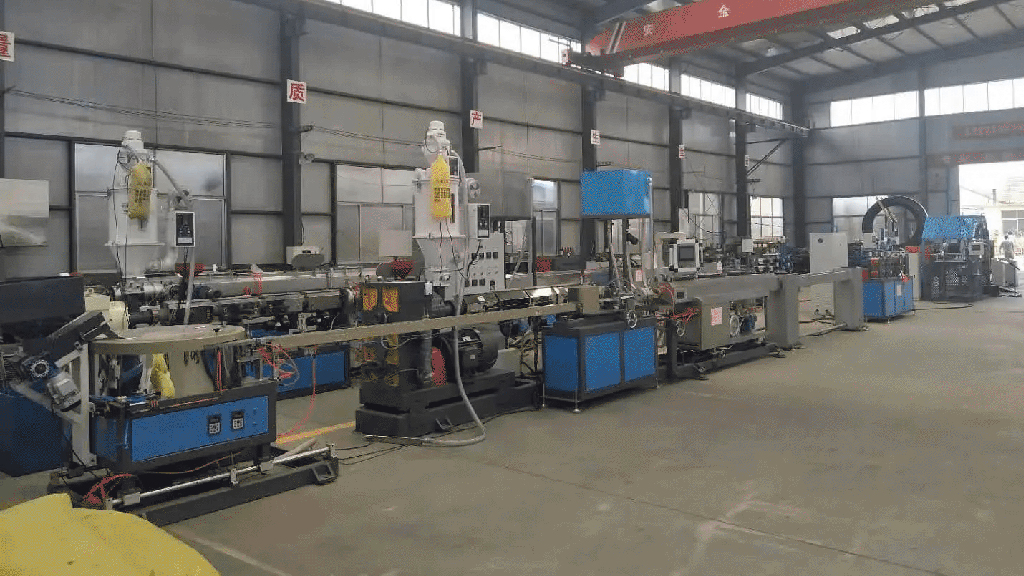 Introduction:
The inner flat emitter drip tape is a kind of tape with the flat emitter and by size, it is thin pipe with diameter of 16mm. And this tape is integrated along with the dripper emitter. This Kind of tape is easily installed in any field. The emitter is developed with a special window, which has the ability to filter the liquid. The labyrinth design of the emitter adopts the flow pressure compensation ability. The right adjustment of the pressure gives a balanced flow. According to the requirement of the client In Benk Machinery Co LTD's Inner Flat Emitter Type Drip Irrigation Tape Making Machine, there is special setting that can customize the emitter spacing location.
Application:
Drip irrigation tape can be used in various drip irrigation projects, including vegetables, flowers, tea gardens, fruit gardens, greenhouses and many others.
Here are the examples where this type of drip irrigation tape is used.
In Greenhouses for the cultivation of Cucumber, Strawberry, Tomato, Water Melon, etc.
Farmland Cultivation: Tobacco, Ginseng, Pepper, Water Melon, etc.
Cultivation with the nursing solution.
Characteristics:
It keeps equalized irrigation, and it is suitable for annual crops.
It is possible to irrigate vast areas at the same with a low volume of water.
High durability raw material that can resist chemicals and ultraviolet rays.
Prevention from moisture increase in the air and control of harmful insects.
This kind of drip irrigation tape can cut down the production cost.
Decrease of the harmful effects of insects.
Inner Flat Emitter Type Drip Irrigation Tape Making Machine consists of the following parts:
Inner flat dripper irrigation tape production line
Dripper transferring system
Automatic material feeding and drying system
SJ-75×33/1 single screw extruder
Mold (the durable filter is included)
Vacuum water tank
Cooling water tank
Tractor
Punching system(with camera)
Winding machine
Electric cabinet
Chiller
Packaging machine
Dryer and mixer
High-speed camera system
Screw compressor
Dripper mold(128cavities)
160-210T injection machine
All other technical details can be obtained through our contacts.
Benk Machinery Co LTD