Disposable Medical Nasal Oxygen Tube extrusion line
Disposable Medical tube extrusion line
Disposable Medical Nasal Oxygen Cannula Pipe Machine is one of the special design machines which is designated for the medical industry. A nasal oxygen cannula pipe machine is used for the extrusion of Oxygen cannula tubes, oxygen pipes, blood transfusion tubes, and other pipes used in the medical industry. The oxygen cannula pipe machine uses materials like PVC, TPE, and additives for the production process. All those medical pipes have high demand during the COV19 Pandemic period in the world.
Disposable Medical Nasal Oxygen Tube extrusion line application 
Medical pipe manufacturing machine is used for the production of various types of pipe which are in high demand nowadays. There are different types of machinery capacities we offer for the production of medical pipes. This mainly differs according to the capacity and production manner. We are able to offer medical pipe machines taking into account all the requirements of the customer. Please feel free to contact us with your requirements.
Get Nasal Cannulae pipe production line price 
Medical nasal oxygen cannula pipe quality
Benk Machinery Co ltd can supply medical hose machinery that is able to produce medical pipes of good quality. In our production process, we use electrical parts from well-known world producers. Our machinery has a touchscreen interface which is convenient to the customer operators. We provide free consulting on raw material and technology processes for our customers.  Material usage, medical-grade PVC, PE, TPU, PE, PP, and Teflon.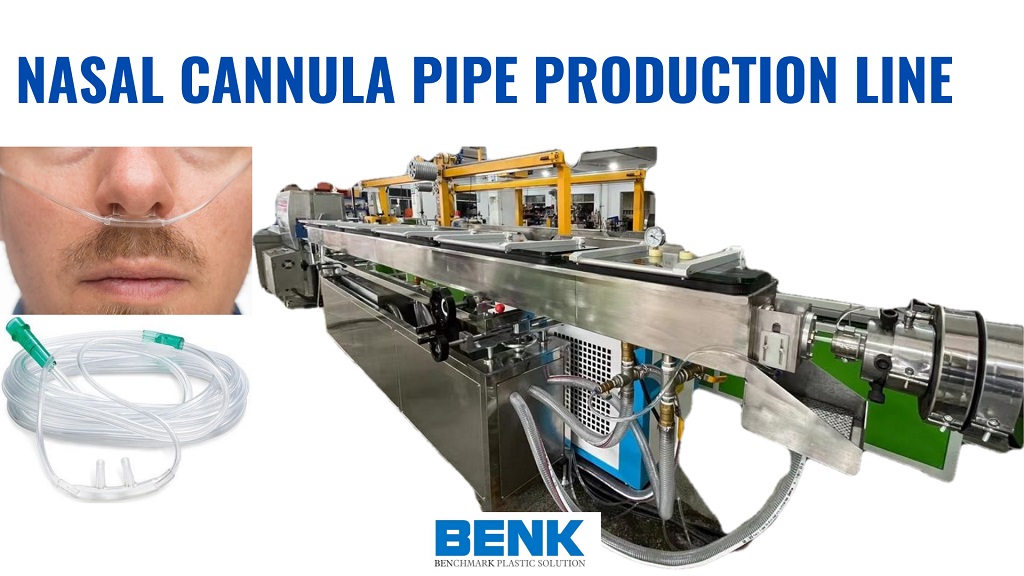 Cannula pipe production flowchart
Preparation of raw materials mixing with the additives
Extruding process
Dies
Calibrating
Cooling in vacuum cooling tank
Hauling off
Cutting
Stacking
Nasal oxygen cannula pipe machine location
Due to high requirements in the medical industry medical nasal oxygen cannula pipe production machine can be located in the workshop within dust-free conditions.
Nasal oxygen cannula pipe machine specifications
Precision: ±0.02mm
Pre-oiling cooling system.
Complies with medical clean bench conditions
Can apply to GMP certification's workshop
PLC controllers, color touchscreen control system.
Integrate temperature control, automatic speed controller
Temperature protection.
Siemens brand Motor, frequency drives
Nasal oxygen cannula pipe machine youtube
In order to see the medical cannula pipe production process please see our channel on youtube and subscribe to us in order not to miss the latest news in the plastics technology industry.
Please Subscribe and Like our channel
www.benkextruder.com
Email: [email protected]
WeChat/WhatsApp: +8615950962426
Telegram: @benk_machinery_co_ltd
Subscribe to us:
https://www.youtube.com/channel/UCm7P_hL9NLr2rDy5SM8gJ_A
https://vk.com/id422848847
https://www.facebook.com/eric.ding.58760/
https://twitter.com/BenkLtd
https://www.instagram.com/benkmcl/
https://www.pinterest.com/benkmcl
https://www.linkedin.com/in/eric-ding-b9722922/
Nasal oxygen cannula pipe production line price
The main cost can be calculated as below: machinery price, machinery logistics cost, workshop rent cost, raw material cost. By taking into account all those factors which may affect the end product you may estimate the cannula pipe production cost. If you have any points to clarify and issues to solve then we are able to assist at any point of the startup stage.
Nasal oxygen cannula pipe production technology
Ben Machinery Co LTD can offer the turnkey solution for medical pipe production. We will be consulting in each step of the startup process. We can provide technical assistance and consult free of charge.
Nasal oxygen cannula pipe machine diagram
High quality PVC medical hose pipe extruding making machine
The main equipment for the medical pipe extrusion is the feeding system, extruding machine, circulating cooling system, online precision testing system composition.
Adopted professional design, suits range, ensures materials extruding stability and high transparency.
PLC man-machine interface precise electronic control system, the high accuracy servo drive, ability to choose online closed-loop control system, high stability of the production.
Any special specifications of dual-chamber much housing tube and co-extrusion production line all can be customized according to the requirements.
What is included in the medical pipe production line
Extruder
Dies
Vacuum cooling
Calibrator
Hauling off
Cutter
Stacker
Winding 
Get Nasal Cannulae pipe production line price 
More videos to watch are here:
PP Hollow Construction Formwork Machine video
Corrugated Pipe Production machine video
Meltblown Nonwoven Fabric Machine 1600 mm Video